Recognising Kashmiri Silver
Recognising Kashmiri Silver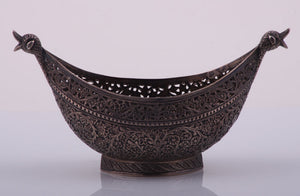 INDIAN SILVER OF THE RAJ
Kashmiri Silver was one of the most popular styles of Indian Silver. The silver-work was influenced by the beautiful scenery which the Kashmiri region is well known for.  Floral motifs of coriander leaf, poppy plant and chinar leaf were incorporated into the design and repeated around the entire surface.
---
Chinar Leaf
---
Usually, these motifs are placed amidst line work of arabesques or paisley patterns. The line work was adorned with a simple circular pattern and occasionally gilded.
Linework and Ground
Paisley Pattern Motif
Goblet with Paisley Pattern
---
The ornamentation was rendered on a flat plain: the line work and background of floral motifs were on the same level. This created a smooth, intricate effect reminiscent of the artistry of the well known Kashmiri shawls. The paisley pattern or boteh can often be found on Kashmiri shawls, showing the further influence textile design had on the silversmiths.
Goblet with Paisley Pattern
Kashmiri Shawl courtesy of ULITA
---
Kashmiri silversmiths created objects in both European and Indian forms. Examples in Indian form include kashkuls (begging bowls), kangri bowls, and surahi (water bottles). European forms such as tea sets, goblets, tankards, condiment sets and trays were also made.
Goblet with Paisley Pattern
Silver Kashkul or Begging Bowl
---
BIBLIOGRAPHY AND REFERENCES
---
Watt, George. Indian Art at Delhi 1903. London: John Murray, 1904
Wilkinson, Wynyard. Indian Silver 1858 – 1947. 1999.